Dear Katarina, looking at all these delicious and interesting dishes, we must ask a question that interests many of us. How did you decide to become a food blogger or did this hobby start by accident? Where did the love of cooking come from?
We are not professional chefs, but a teacher and an economist, and through all this, we were guided by the love of food that brings us closer together every day again at the kitchen table. Since childhood, we both really enjoyed food and everything about it. We are happy to prepare and cook for others and enjoy it. Recently, we have educated ourselves further, we researched and learned, and therefore wanted to create our special corner in which we create a connection with our restaurant where we cook, present, and share our delicious dishes with others. So, all things considered, starting a blog was a logical step.
We see that your whole family participates in the creation of these wonderful dishes, so we are dying to know who has the last word and who decides what will be prepared in the end?
It is always crowded but fun in our kitchen. Cakes are exclusively my niche and in the whole process of creation, I am the only one involved. I really like work where I can express my creativity, and this is one of those things - and that is the beauty of making desserts. I am very persistent by nature, so I am not giving up until I make the cake perfect (exactly as I imagined it). I learn and read a lot about techniques in confectionery, which requires a lot of attention and dexterity to make all the elements well done.
Considering your skills in the kitchen and all the knowledge you possess, how important is healthy eating to you? Do you think that Croatian buyers have followed healthy eating trends or that we are still lagging behind more developed countries?
The situation is much better than when we were kids, but there is still a lot of space for improvement. We cook daily, even a few times a day, because this work of ours is also food-related. As you could tell, food for us represents love, fun and making good memories. We have a huge advantage living in the countryside and having a big garden where we have planted various kinds of vegetables. We mostly eat quality meat and healthy groceries. It is important for us to teach children by example how to enjoy a variety of ordinary, easily accessible food.
Describe one cooking day in your family and what kind of meals do you make for your family. What do your girls like eating the most?
Our family is spending a lot of time together, so cooking has proven to be a great opportunity to learn and have fun together. Everyone has a special part to play in the kitchen. Loreta has already developed a range of skills, so she is the main assistant for peeling foods, breaking eggs, and chopping vegetables and she really likes decorating what we prepare. When we are cooking, we try not to complicate things much, but we always try to make our dishes from real, natural ingredients. We like to eat various kinds of food and there is no food we do not like. Girls are not picky, so we do not have a problem with what we are going to prepare and cook. We always have some inspiration from our garden, refrigerator, or pantries, and that's how the best recipes are created.
What advice would you give to young moms or women who are yet to become one? What do you think is essential? Can you share your piece of advice related to the diet of children?
Mealtimes should be time to enjoy, so the whole wisdom is to teach the child how to gradually get to enjoy food and participate in shared meals. Good nutrition is taught in the long run. It would be great if you allowed and taught your child to interact with food in such a way that when he eats alone, he explores food not only by eating, but also by touching, smelling, feeling, listening and tasting. All children have some stages in which they are picky or eat less, but it would be great if you include them in the whole process.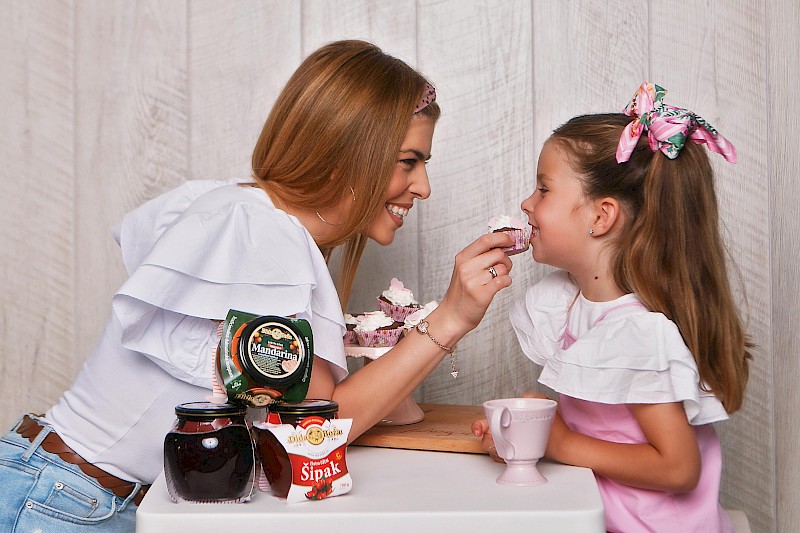 QUICK QUIZ
1. Name three favorite food/products when preparing healthier meals?
Vegetables, whole grains, and olive oil.
2. A golden tip or good trick for family cooks or young parents?
In our experience, it is important to include children with food, enable that contact. When he simply chops food, spices up or just arranges cutlery he immediately finds it more interesting because he feels included.
3. Name one fast food classic which you prepare in a healthier version?
Wholewheat tortillas with vegetables and with fresh cheese.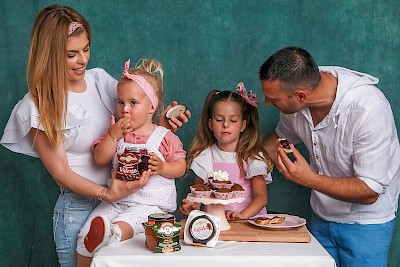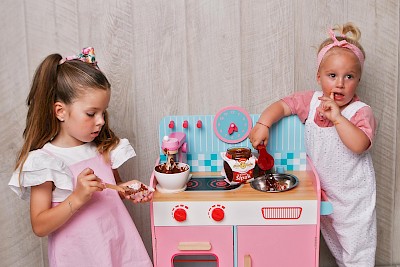 We hope you learned something new today and that you will embark on the food prep adventure together with your dearest ones, and that on the way you will get to enjoy all the food and dishes you are preparing. At the end, we have some ideas for the yummy family meals that you can prepare when you run out of inspiration.