1. Dye the Eggs Naturally
Dyeing the Easter eggs is a fun activity for the whole family filled with creativity. There are different well-known ways of coloring the eggs, e.g. using onions, store-bought egg colors or felt tip pens, but today we bring you a simple and an eco-friendly dyeing method. For this method you won't need any new ingredients because you can use the products you already have at home.
You will need:
1 liter of water
1 spoon of salt
2 spoons of vinegar
2 spoons of vegetables, fruits or similar products (depends on the color and pigment you want like to achieve)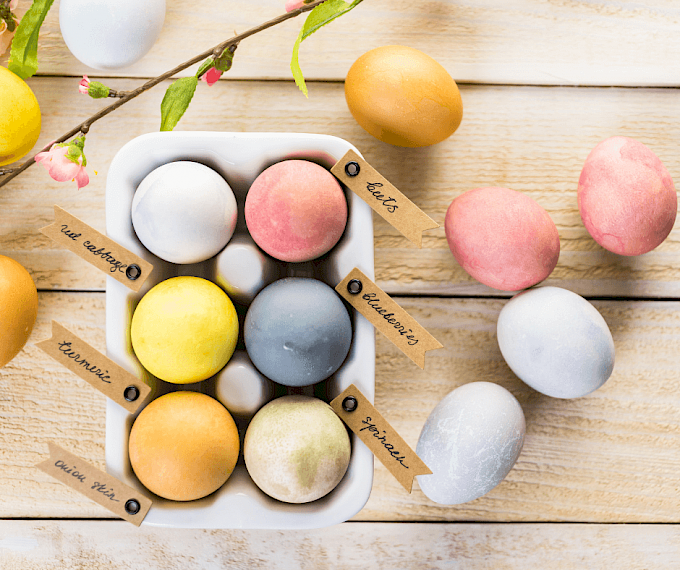 COLOR SUGGESTIONS
For pink or lilac color use beetroot, for dark blue or purple use blueberries or other kind of berries. If you would like to have green eggs use spinach, chard or parsley and if you want to have yellow eggs you can achieve it by using turmeric powder or citrus fruit. There are numerous combinations so let your creativity shine!
PREPARATION
Once you choose the color, mix the above ingredients and leave them in the pot to simmer gently on the stove. Let the ingredients cook for about 30 minutes, and in the meantime, cook the hard-boiled eggs in a different pot. When the mixture has cooled, put it in one of the jars where you will put the boiled egg. The egg should stay in the mixture for a few hours or longer (you will judge for yourself how the color catches). For other colors, repeat the process with other fruits or vegetables and be sure to take different bowls for the mixture.
2. Make Your Easter Dining Table Colorful and Lively
While you are preparing the Easter breakfast take into consideration that what's on the table is not really important but the fact that it's made with love.
Dida Boža homemade ajvar pairs well with cooked ham, eggs, homemade bread and spring onions and will enrich each flavor. As a glass full of fruits and vitamins, for breakfast you can serve Dida Boža organic pomegranate juice which will refresh and wake up your family.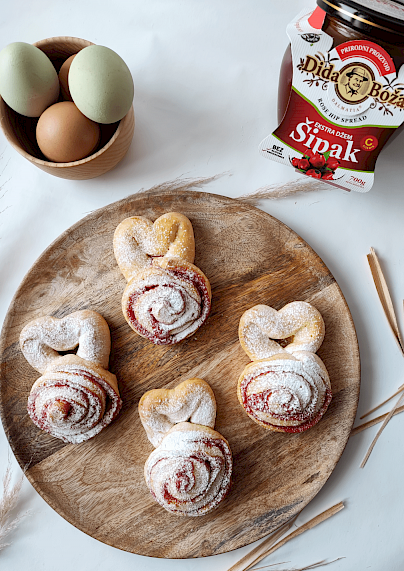 3. Enjoy the Little Things
The meaning of holidays is not gifts and material things but the little things that make those days extra special. Don't let yourself get overwhelmed by stress thinking that everything has to go perfectly. It will be as you make it to be but the most important thing is to be surrounded by your family. Small things are sometimes the most beautiful.
We wish you happy and blessed holidays!