Some of the great ways to unwind are dance and Yoga, which are the favorite activities by our dear collaborator and Yoga teacher. Sara is regularly participating in different sports activities and encourages a healthy lifestyle, and she opted for a somewhat different diet when she became a vegetarian a couple of years ago.
Sara joined us for a conversation from which we tried to find more about her lifestyle, hoping to get some tips and advice applicable to our own daily lives. We hope you will enjoy reading all of them as well, and to all of you who want to relax with Sara's guidance and try Yoga online or in person, don't hesitate to contact her: https://www.instagram.com/sara.vargovic/?hl=hr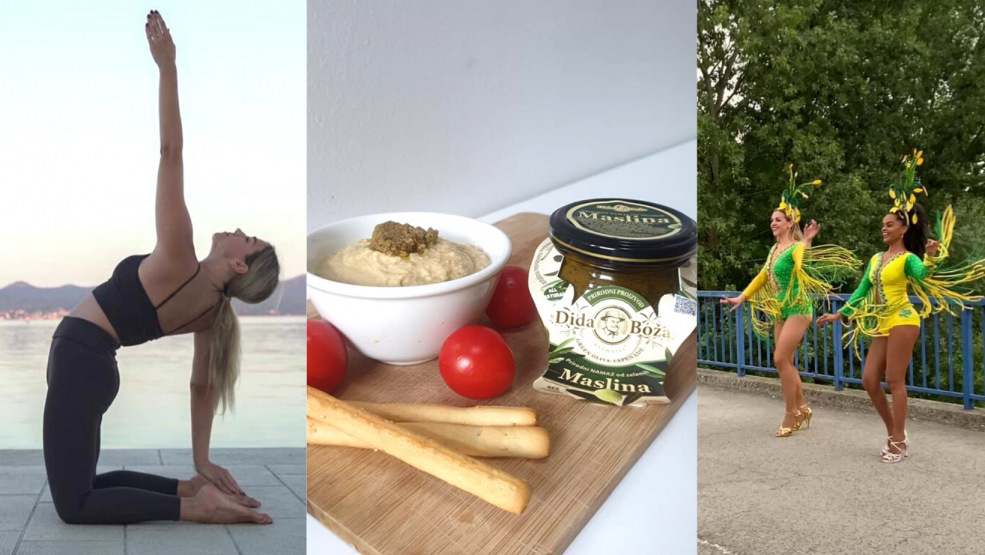 Sara, you are dancing your whole life and you are always on the move. How did your Yoga journey start?
I would say that since I was a kid, I was always fascinated by the human body movements. I started with martial arts in elementary school, and I discovered dance when I was 15, and until today it remained my biggest love.  I discovered Yoga on one of my travels through Australia in 2015, and I was curious what the fuss is all about.  I was surprised by the effect only one training had on my body, so I started incorporating Yoga practices with my dance classes. Once I realized Yoga helped with one of my long-term back nerve injuries, I started practicing it intensively. I'm the type of person who likes to come to the root of the thing I'm interested in, so I started deeply investigating the benefits of Yoga, its philosophy and methodology, which led me to a decision to go to India for further education.
High energy levels are of utmost importance for good training. What type of diet provides you with necessary nutrients? How long have you been a vegetarian and how did you decide to become one?
Active lifestyle really requires a lot of energy, and anyone who takes care about his health and vitality knows how important it is to pay attention to the nutritional facts. After spending some time in India, where I had a special dietary regimen, I realized that vegan and vegetarian food really suit me and provide me with lots of energy. It has been almost two years since I'm strictly vegetarian, but even in the past five years I consumed meat and fish so rarely that switching to a vegetarian diet wasn't such a big change for me after all. I love cooking and enjoy trying new recipes, and I mostly eat organic and seasonal products, and my meals are often a result of an inspiration I collected on my travels around the world.
.
Do you agree with the saying "A healthy mind in a healthy body"?
Yes! I couldn't agree more – mind and body are interconnected, and it is important to ensure both sides are in a perfect balance.
Can you share some advice for people who want to improve their life quality and introduce some positive changes to their current lifestyle?
I would say that the most important thing is to introduce any of the changes slowly and gradually. We can start even with the smallest step, and we don't need to set any deadline. If we are ready to embrace new lifestyle, there is no deadline.
5.  Please discover your three favorite dishes or ingredients which are always represented in your meals!
As you will see in my recipes, I absolutely adore hummus and I can eat it anytime and in any combination. It is very nutritionally rich, and at the same time filling and can versatile. You can use it with filled zucchini, light salad or toast, and everyone can prepare one from the scratch. Find my recipe here. Also, I love "Daal", an Indian recipe for red lentils with vegetables, as well as tasteful risotto with veggies, tofu, and shiitake mushrooms. When it comes to sweet snacks, I adore energy bites. You must try them! Maybe you already made these raw energy balls, and my recipe will be available soon on dzem.hr blog. In my kitchen you can always find nuts, seeds (chia, flax, sunflower, sesame) and spices, such as turmeric, salt, and red pepper.
       6. How can we take the best care of our mental health? Can you give us some tips on how to start our days with Yoga or relaxation without previously being  familiar with Yoga?
I personally decided to spend most of my time doing things I love, so even when I'm tired after work and not in the mood for training, I remind myself of how much that fulfills me, and that realization becomes my fuel. I'm very limited with my spare time, but I spend it on activities and people who are positive and inspirational and therefore good for my mental health. I am continuously participating on educations and real literature which supports my growth and development and increases the quality of my mental health. When it comes to the morning Yoga practice, if you want to relax without professional guidance, start by moving your body naturally, the way it feels good. Stretching which improves spine mobility (stretching forward, backward, aside, rotations) is great for the start of the day. You can also spend five minutes after waking up for a short meditation. Make those activities as simple as possible, believe me, you know more than you think.