Hermes International is the winner of the Superior Taste Award 2023 for both of its registered products under the brands of Dida Boža and Dalmatia. These are the following products: Dida Boža organic spread Fig with orange 240 g and Dalmatia Fig Chilli Spread 240 g. The recognition and the rating the products won are yet another proof of the excellent taste and the premium quality of Dida Boža and Dalmatia products.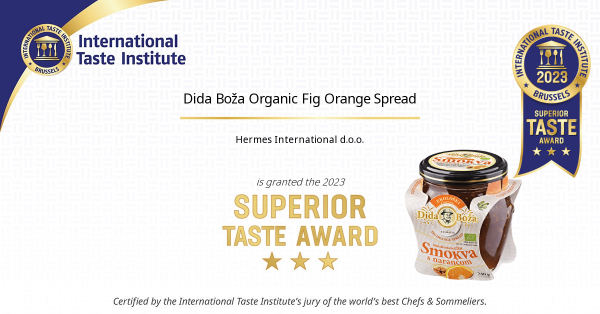 Products at the contest are rated using the blind taste method in six categories:
first impression
appearance
smell
taste
texture
final impression.
The awards are administered by a jury made up of more than 200 members from 20 countries, including world renowned chefs and sommeliers. Selected judges are not aware of the brand nor the origin of the tasted product.
Dida Boža organic spread Fig with orange won maximum three gold stars for exquisite taste, texture, and appearance. Dalmatia Fig Chilli Spread won two stars: it amazed the judges mostly by its appearance, texture, and taste.
Hermes International has been participating in this evaluation since 2019 and to date we have won as many as six Superior Taste Awards, which proves that great things can be achieved with superior quality and teamwork.