Today we bring a real sensation. Dida Boža's family has gained another new member. It's all about Jaffa – an organic spread made from figs, oranges and cocoa, based on fruit, more precisely figs, and is perfect for anyone with a sweet tooth. Are you wondering why we use fig? Aside from the fig being a logical choice as the queen of Dida Boža product range, unlike other chocolate spreads, this spread has a healthier base, a fruit that goes well with the other ingredients. If you ask us what synonymous with chocolate and great taste is, we think Jaffa is the right answer. So chocolaty, juicy and powerful. The combination of figs and refreshing oranges, enriched with irresistible cocoa notes, makes this spread an ideal treat for all lovers of chocolate delicacies.
People who watch their diet or have to follow certain guidelines due to intolerance to certain foods will be happy to know that Jaffa does not contain gluten and preservatives. You can taste Jaffa and combine it with various desserts with no guilty conscience. A high proportion of fruit, a unique recipe and carefully selected ingredients make this spread special and irresistible for every palate.
If you were wondering where to buy this spread, we give you the answer below. You can currently find Jaffa packs of 240 g in all larger Spar, Konzum, Tommy, Bipa branches in Zadar and Zagreb airports and in the Dida Boža web shop.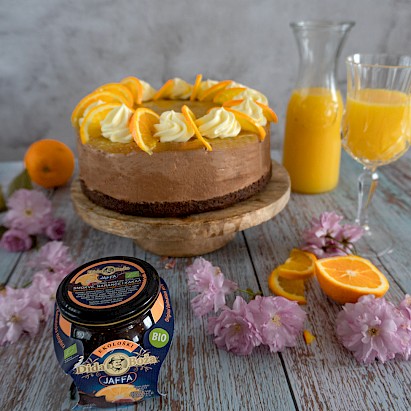 Combine the spread with waffles, pancakes, as a topping for chocolate cake or as a filling for donuts. It's certainly delicious as a snack on a spoon while watching your favorite movie or series. For a quality meal and quick snack before or during work, add Jaffa to your favorite smoothie or oatmeal, or spread it on the wholegrain cookies you brought to work. The combinations are endless and this spread is sure to find its place on healthy food shelves.
Among the first to try the new spread were public figures from the fashion and movie world at numerous events, as well as food bloggers, who immediately came up with tasty and creative recipes. Various ideas and recipes are available on Dida Boža's social networks and on our blog dzem.hr, which was created as a place for gourmets to discover magical combinations of delicious snacks with jam, methods of preparing homemade jams, as well as their benefits that come from traditional recipes passed from generation to generation that only some grandmothers and grandpas still know. Below find Jaffa desserts that are easy to make and can be prepared for different occasions.
The recipe for the chocolate Jaffa cake is provided by Mila and you can download it on the dzem.hr blog.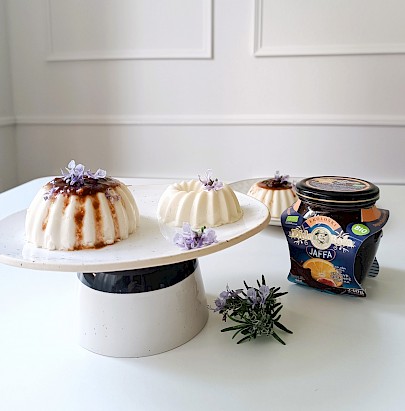 Everyone loves panna cotta, and today we're bringing it in a slightly different way, created by our lovely Slavica.
PANNA COTA WITH JAFFA
Ingredients:
240 ml milk
7 g gelatin powder
100 g sugar
240 ml whipped cream
1 tablespoon vanilla extract
a pinch of salt
1 vanilla sugar
Filling:
● 100 g Dida Boža Jaffa organic spread made from figs, oranges and cocoa
Preparation:
 Put the milk, whipped cream and sugar in a saucepan and mix gently. Add a pinch of salt and vanilla sugar.
Put the pan on a low heat and, while stirring, gently bring the ingredients to a boil. Remove the pan from the stove and let cool for 15 minutes.
Add vanilla extract to the cooled aromatic liquid and mix. Gently add the gelatin powder and stir constantly with a whisk, until well mixed and the gelatin has dissolved.
Place a teaspoon of Jaffa spread in the bottom of the panna cotta dish. Then pour the liquid into the molds.
Allow to cool and compress at room temperature, then leave in the fridge for a few more hours. Before serving, add another teaspoon of Jaffa organic spread, if desired. Bon appetit!